In the top menu, click on Join Now. This will take you to our Registration page. Read the instructions. Then fill out the following form: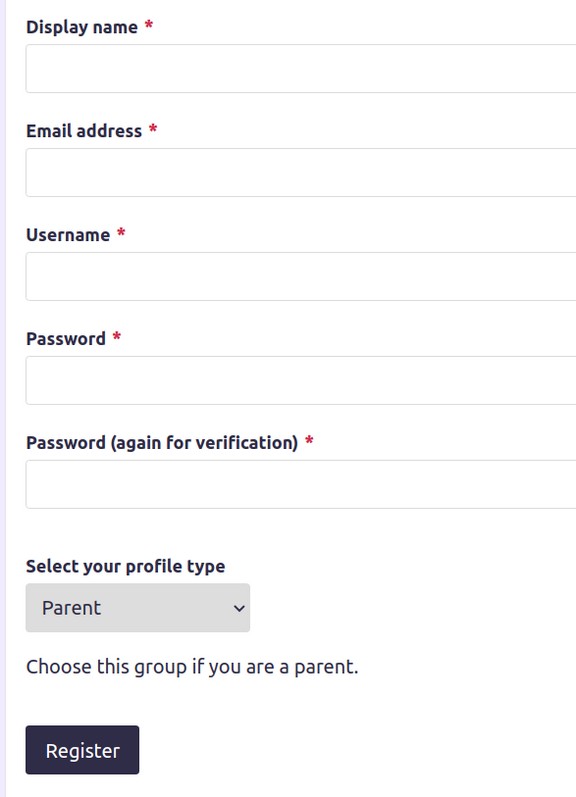 For Display Name, enter your first and last name. For example, Jane Smith.
For email address, please use a personal email address – not a work related email address. For example, This email address is being protected from spambots. You need JavaScript enabled to view it.
Note that your email is used only by administrators to send you important updates. Other community members will not be able to see your email address unless you personally provide it to them.
The Username is the name you will use to log into your account. Please use lower case letters with no blank spaces for your username. For example, janesmith.
For your Password, please make the password at least 8 characters and include Upper and Lower case letters and numbers. The password should have no blank spaces. You can also include special characters in your password if you wish. For example, you can use a password like JS#2020abc.
For Profile type, we have six types of members. These are Parents, Grandparents, Other Caregivers, Teachers, Other Educational Providers and Other Community Members.
Use the drop down box to select which group you want to join. Then click the Register button at the bottom of the page.
You will be sent a confirmation email. If you do not see this email in your In Box, please check your Spam folder.
If you encounter any difficulties registering, send us and email with your first and last name and the user name you would like to use. We will help you get registered and email you back with a simple password which you can change later from your Profile Settings page.
Then click on the confirmation link in the Email. You will then be automatically logged into our Parents Network Home page.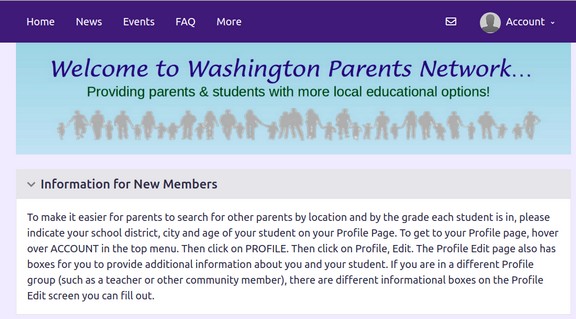 Please read the box called Information for New Members. It explains that to complete the registration process, you need to hover over the Account menu item in the upper right corner.
This will display this side menu: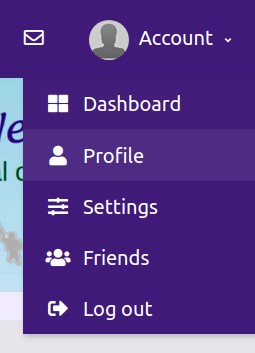 The Dashboard page is a Private page which only you can see where you can set up all kinds of tools or boxes called Widgets that will make it easier for you to interact with other group members. One of the most important tools which should appear on your Dashboard is a tool for searching for other group members.
The Profile page is a page visible to our other members where you can provide more information about you and your child.
The Settings page is a page where you can change your display name and password.
The Friends page is a page that displays a list of all of the friends you have connected with on our network. The Friends page also has a tool allowing you to invite new friends by sending them an email.
Click on Profile to go to your personal Profile page: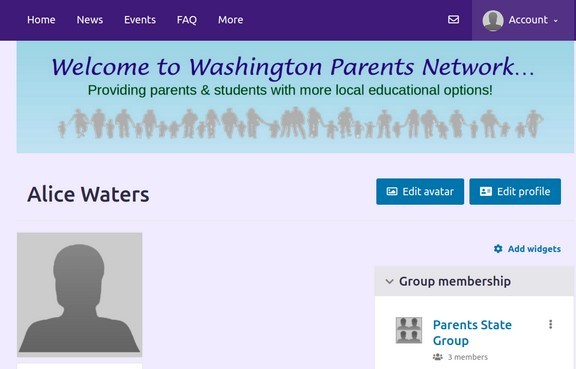 Note that all new members are automatically enrolled in our Parents State Group. To add a picture of yourself, click on Edit Avatar. Then click Choose File and select an image file from your file manager. Then click Save. Scroll down the page and you will see a Cropping Tool where you can crop your image if needed: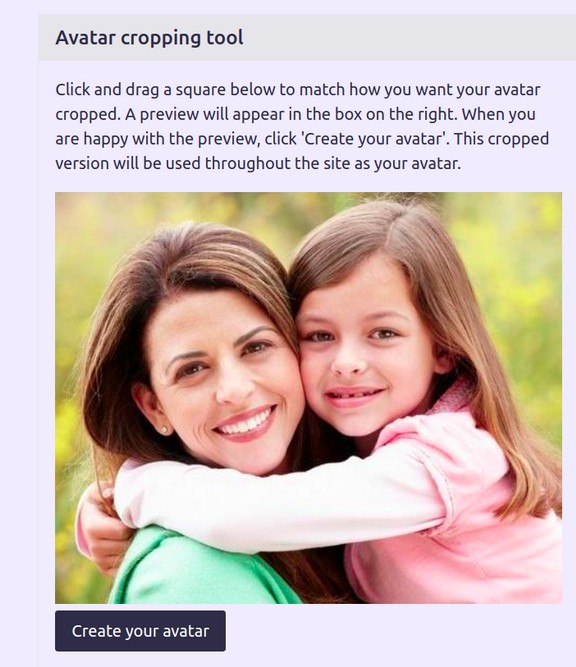 Click on the image to bring up the cropping selection tool. Once the image is cropped the way you want, click Create Your Avatar. The page may say that Avatar Upload failed. But it likely succeeded. Go back to your profile page where your Profile Image should now be displayed.
Next, to complete the registration process, click on Edit Profile: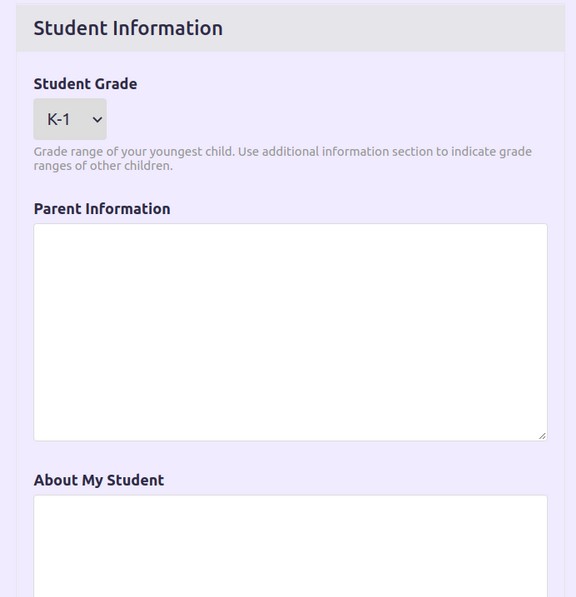 Change the student grade to indicate the Grade Range of your child. Then add a sentence or two about yourself, why you joined and about your child and their educational needs. Then scroll down the page and type in the name of your school district and city. At the bottom of the page, you can select who can see your profile information. Even if you leave it set for Public, only members of our Parents Network can see your Profile Page. Then click Save.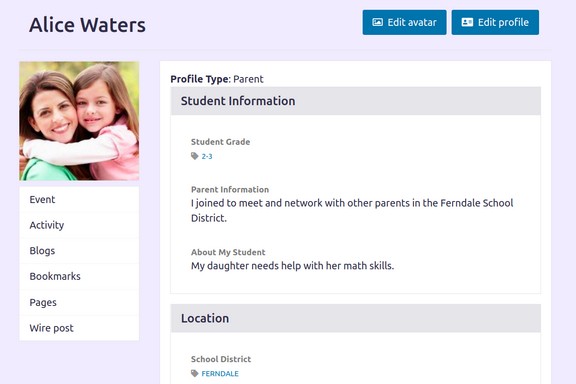 After filling out the boxes on your Profile Edit screen, go to the More menu item in the top menu.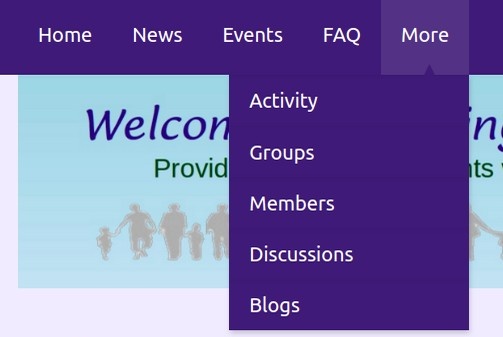 You will see links to several networking pages. These are
Activity: A page showing the latest activities of all of our members.
Groups: shows a list of all of our parents groups (divided by school district and also by profile types and special interests of members).
Members: shows a list of all of our members. Click on any member to see their profile page – where there will be a link to add them as a friend.
Discussions: shows a forum where group members can ask questions and respond to questions of other group members.
Blogs: shows a list of blog posts of group members. On your profile page, you click on your own blog and post an ongoing blog about yourself and your student to share with other community members.
Click on the Groups Menu item to join any groups you are interested in.
If you see your school district on this list, click on it and click Join Group. If you do not see a group for your school district yet, then from the Groups page, click "Create a group" to create a new group for your school district. All of our members are allowed to create their own groups.
Invite Other Parents to Join
Click on the Friends Menu Item in your Account Side Menu. You can use this Invite Friends tool to invite other parents in your school district to join your group.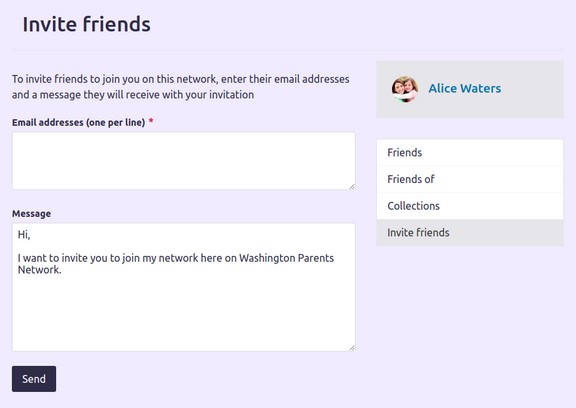 Just copy and paste or type in one email address per line. Then change your email text to whatever you want. Then click Send. You can also post links to our Washington Parents Network to Facebook pages to encourage other parents in your school district to join our parents network.
Search for Existing Members with Similar Interests
You can also click on the Widgets link on your Profile page and or your Dashboard page to add a Search box or other content to either page. You can then use this Search Box to find other parents who live in your community or have a child of the same age or interests: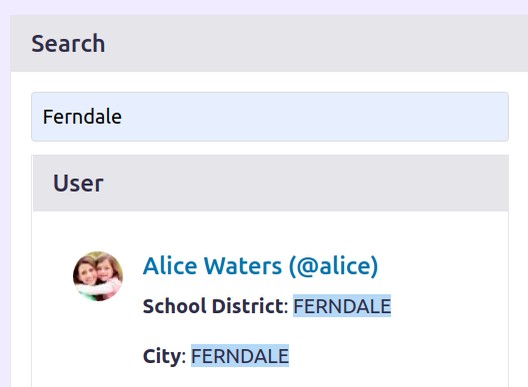 If you have a particular question, you first need to decide which group to ask. Then go to More > Groups and can click on the group you want to ask. Then click on Group Discussions. Then click Add New Topic.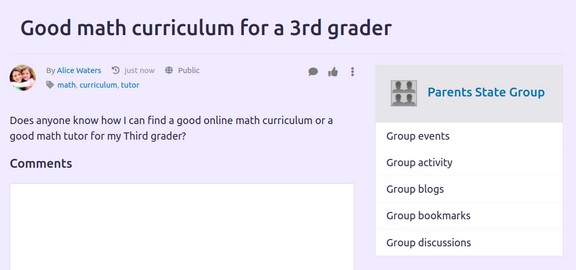 How to Learn More
Beginning on August 9, 2020, we will be holding weekly online parent networking video conferencing events every Sunday evening from 7 to 8 pm. These meetings are free and open to any parent concerned about the educational future of their children. Sign up by clicking on Events in the top menu. You do not need to be a member of our group to attend. You can also email us directly to get a link to these video conference meetings.
Note that the link may change from week to week.
Conclusion
Here at Washington Parents Network, we are just getting started. As more parents realize that their kids have been abandoned by the current education system in Washington state, they will begin searching for more options.
We think that the best option is for all us as parents to work together to create more educational opportunities and a better future for all of our kids.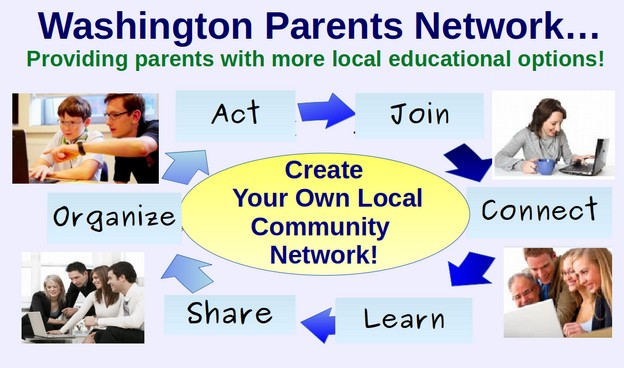 Welcome to Washington Parents Network!
As always, I look forward to your questions and comments.
Regards,
David Spring M. Ed.
spring for schools at gmail dot com