It is important to understand that Washington Parents Network is actually two different websites combined into one. Washington Parents Network dot com is actually a Content Management System (CMS) which allows us to easily post and organize articles, text, images and videos. Here is the URL to Washington Parents Network dot com: https://washingtonparentsnetwork.com/
Some of these articles are then copied to our other website called Washington Parents Network dot org – which is a Social Networking System (SNS). Here is the URL to Washington Parents Network dot org: https://washingtonparentsnetwork.org/
A Social Network System has a much different purpose than a Content Management System. It is designed to help people find and communicate with other people who share similar goals and interests. Facebook is the most well known example of a Social Network System. There are some tools that are available on Facebook that are not available on Washington Parents Network. But there are also many tools that are available on Washington Parents Network that are not available on Facebook. In particular, the Member Search function, Group Creation, Event Creation and Communication and Group Discussion tools (as well as your control over the privacy of your communication) are all much better on Washington Parents Network.
When you join our Parents Network, you are actually joining our Social Network System (Washington Parents Network dot org). When you are first getting started, you may spend some time reading articles on Washington Parents Network dot com explaining how to make the most out of our Social Network. However, eventually you and other parents in your community will spend most of your time communicating with each other on our Social Network, Washington Parents Network dot org.
The reason we are using both a Content Management System and a Social Network System is that social networks can take a lot of band width on our server. Separating the Content Management System from the Social Network System means that both websites will run a lot faster.
Navigating between Washington Parents Network dot com and dot org
The purpose of Washington Parents Network dot com is mainly to provide parents with news on our schools and other educational options as well as articles and tips for new members on how to use our Social Network. Therefore, while the top menus of both websites look about the same, there are several important differences.
#1 The Join Us and Log In buttons on both websites go to pages on our Social Network.
#2 After you have joined and are logged in, a series of new buttons will appear on our Social Network or Dot Org that are not present on our Dot Com website. These new buttons are all located under a new menu item called MORE: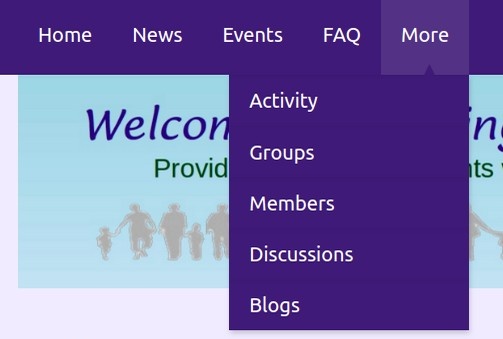 You will see links to several networking pages. These are
Activity: A page showing the latest activities of all of our members.
Groups: shows a list of all of our parents groups (divided by school district and also by profile types and special interests of members).
Members: shows a list of all of our members. Click on any member to see their profile page – where there will be a link to add them as a friend.
Discussions: shows a forum where group members can ask questions and respond to questions of other group members.
Blogs: shows a list of blog posts of group members. On your profile page, you click on your own blog and post an ongoing blog about yourself and your student to share with other community members.
Also in the upper right corner of the top menu, you will see a menu item called Account. However over this to see several additional side menu items: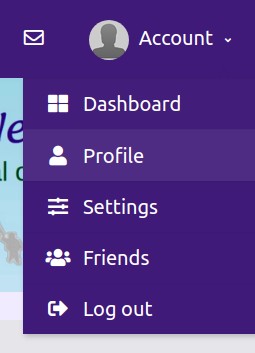 The Dashboard page is a Private page which only you can see where you can set up all kinds of tools or boxes called Widgets that will make it easier for you to interact with other group members. One of the most important tools which should appear on your Dashboard is a tool for searching for other group members.
The Profile page is a page visible to our other members where you can provide more information about you and your child.
The Settings page is a page where you can change your display name and password.
The Friends page is a page that displays a list of all of the friends you have connected with on our network. The Friends page also has a tool allowing you to invite new friends by sending them an email.
Click on Profile to go to your personal Profile page. Here you will find a personal menu under your Profile picture:
The Event menu item goes to events you have created. To see events you have signed up for that were created by others, click on Events in the top menu.
Click on Activity to a list of activities you have participated in.
Click on Blogs to go to your Personal Blog page. Click on Add Blog Post to write your first blog.
Click on Bookmarks to see a list of pages that you have bookmarked in order to easily return to those pages in the future.
Sending private messages
You can also send a private message to any other member of our group by clicking on the Envelop in the top menu.

Click on Compose a message.
Then start typing the first name of the person you want to send a message to. When you see the person you want to send the message to, just click on their name to select them. Type in your Subject and your message and click Send.
When the person receives your message, a number will appear next to their message box. In addition, the person will receive an email letting them know that you sent them a private message.
Conclusion
Hopefully, you now have a much better idea of how to navigate around in our Parents Network website. Here at Washington Parents Network, we are just getting started. As more parents realize that their kids have been abandoned by the current education system in Washington state, they will begin searching for more options.
We think that the best option is for all us as parents to work together to create more educational opportunities and a better future for all of our kids.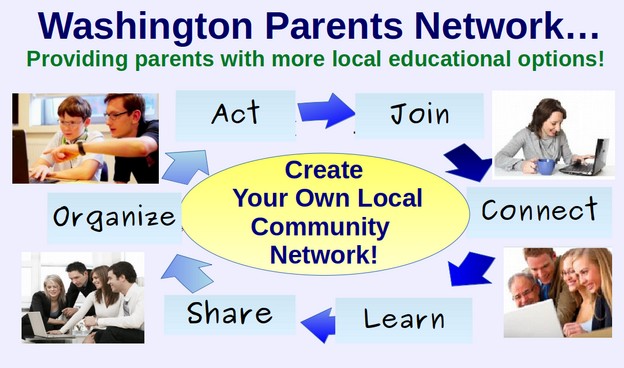 Welcome to Washington Parents Network!
As always, I look forward to your questions and comments.
Regards,
David Spring M. Ed.
spring for schools at gmail dot com